Look at You! Ready to Ride Your Rhythm
& Transform Your Soul-Fire into Your Thriving Life & Career
Get your journal & pen in hand, get comfy & get ready to absorb the powerful energy of these
LIFE-CHANGING calls!
Listen to call recording #1:
Audio clip: Adobe Flash Player (version 9 or above) is required to play this audio clip. Download the latest version here. You also need to have JavaScript enabled in your browser.
Listen to call recording #2:
Audio clip: Adobe Flash Player (version 9 or above) is required to play this audio clip. Download the latest version here. You also need to have JavaScript enabled in your browser.
It's your time to Thrive!
In the Soul of the Rhythm,
Kimberly
P.S. Continue the journey with me in the 12 Days of Rhythm!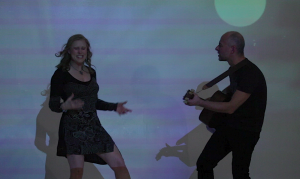 Kimberly Cain is a rock 'n roll shaman, inspiring countless individuals to live at their highest levels of freedom & excellence through creative media, events, music & personal guidance.
She has opened concerts for such artists as David Bowie & Sarah McLachlan (Lilith Fair), has been featured on Dateline NBC, Billboard & Musician magazines. She has worked with the Dallas Cowboys, KZEW-FM, Coca-Cola, Sheraton Hotels, Oprah & U2.
 Radical EvolutionAry Love Makers™ (aka The REALM) – is Kimberly's entertainment entity for creating world-evolving shifts in awareness, producing conscious concerts & media.
Her novel, Heaven, is a story of healing the perceived separation between sexuality & spirituality. Her intuitive guidance inspires thousands to awaken to their creative genius, to live the truth of their higher purpose & rock their lives & businesses with joyful courage, freedom & world-changing innovation.
Proceeds from all of Kimberly's profit-generating initiatives are channeled into integral educational opportunities for emerging leaders.